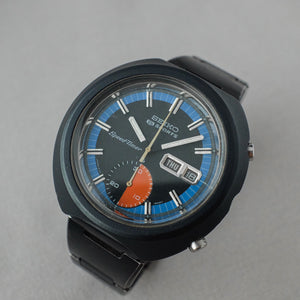 Seiko 6139-8010 from 1972
Sale price Price $0.00 Regular price Unit price / per
For sale is a Seiko 6139-8010.
Debatable as the world first automatic chronograph movement but certainly the first automatic chronograph on the moon.
Of the countless amount of watch Seiko produced in the past, only a handful were ever made with PVD coating. Most vintage PVD coated watches would have obvious signs of aging due to the the contrasting mark made when the later of PVD comes off.
The Seiko 6139-8010 emits a strong vintage retro vibe with its the blue and red elements on the dial which contrast with the matt black casing.
Little need to be said about the 6139 calibre other than it being an undervalued calibre for the value seeker.
The watch case is in a excellent condition considering that is a vintage pvd watch. Watch crystal is mint condition. There is some scuff mark above the crown area, wear on the sundial hands and dirt on the watch dial.
Diameter: 41.5mm
Thickness: 14mm
Lug Width: 18mm