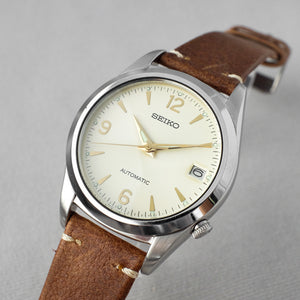 Seiko 7002-8000 from 1994
Sale price Price $0.00 Regular price Unit price / per
For sale is a Seiko 7002-8000.
Mention the calibre 7002 and people will think of the predecessor of the famous SKX007 and descendant of the slim 6309. Only a handful of collectors are aware of the dress watch line launched with the calibre 7002.
The 7002-8000 features a clean cream dial that resembles the unicorn alpinist SARB013 from the shade of gold used to the cream coloured dial. That shouldn't come as a surprise as the 7002-8000 was launch around the same time as the SCVF007 (predecessor of the SARB013) .
The watch features a brushed case with polished bezel for contrast. The mid section of the case protrudes out to meet the lug at a level lower than the case to give the watch more depth.
It is worth nothing that Seiko used a single domed crystal for the 7002-8000, a rare choice of crystal by them. This magnifies the dial making it look bigger and up clearer than with a flat or double domed crystal.
The watch is in immaculate condition with little signs of usage seen other than scratches seen on the case back. The crystal is free from any scratches.
The watch comes on a brand new handmade top grained leather strap.
Serial number has been covered for privacy.
Diameter: 36mm
Thickness: 11.7mm
Lug Width: 18mm