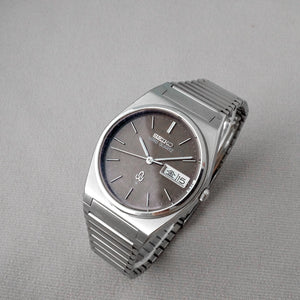 Seiko Lord Quartz 8243-700B from 1979
Sale price Price $230.00 Regular price $291.00 Unit price / per
For sale is a Seiko 8243-700B.
Many might be familiar with the King and Grand Quartz line but the scarcity of the Lord Quartz has managed to elude the radar of many collectors.
The 8243-700B features a vertically brushed taupe dial with a smart bracelet design to give the watch an integrated bracelet look.
Powered by the calibre 8243, a single battery change allows the watch to run continuously for 5 years before the next battery change is required. Being a JDM watch, the watch also features English/Kanji day wheel.
The watch is in excellent condition other than scratches seen on the original crystal that can be replaced by request. There is light ding on the underside of the right of the case. The watch dial and hands are free from any signs of aging.
The watch comes on its original bracelet.
Serial number has been covered for privacy.
Diameter: 33.5mm
Thickness: 8.8mm
Lug Width: 16mm